Hey cheeky after work drinkers! It's DRINKING TIME.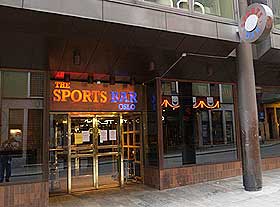 We're making a return journey to No. 24 Sportsbar again after the success of the last night there. I met loads of new Daves and Sues and it looked like everyone had a good time. If I remember I'll move the furniture a bit so it's easier for everyone to mix but the feedback I got was that it was a really good laugh so I see no reason to change things too much this time around.
There's no food in the venue but they don't mind you bringing takeaway in from across the road. Don't forget there's also the games room with a pool table and shuffle boards. Une and the gang loved having us before and can't wait to see us back. There is live music from 10pm as an additional incentive but the important thing to remember is that…
….It's cheeky, it's after work… and it's DRINKS.
Place to meet : No. 24 Sportsbar
Emma from Expats in Oslo can be contacted about this event : http://www.meetup.com/Expats-in-Oslo/events/106698282/
Fees : FREE
Event Categories: Night LifeEvent Tags: after work drinks, expats in oslo and friday out oslo
Report this?